Pay Per Click Advertising works. Grow Leads and make sales fast with Google Ads.
Paid Search with Google Ads and Social Traffic. We Optimise your pay per click campaign and landing pages for conversions. Lear more ↓
P

ay

P

er

C

lick Your Way To More Leads & Sales

 When spending  money on Google ads you want to make sure you are getting a return. But PPC is not easy to get right. You may have tried advertising with Google Ads before so you know how easy it is to burn through a large amount of money fast or if you have an agency running your campaign and the focus is on clicks and traffic. That's what we don't do. Our focus is only on conversions and revenue. We know exactly how much each conversion is costing you and with our expertise we will bring that cost down, increase the visibility of your Ad and increase your CTR (Click Through Rate).
How Pay Per Click Works
You pay Google to rank your website for certain keywords associated with your product or service. To rank your ad against other advertisers you must have an optimised landing page, thats the page that opens when your ad is clicked. If you page is well optimised your ad will rank higher.
Making PPC Profitable
You must know which are the best keywords and phrases. Competitor analysis will go a long way to finding out what works. Quality Score is a rating that Google gives your ads to determine what price you will pay for competing keywords. The higher the score the less you pay.
Conversions & Revenue
Your goal conversions must be tracked and measured to know what you are paying for. You must know what value each conversion has in terms of your business and what each conversion is costing you in terms of advertising. Then all you do is scale your ads.
Our Marketers are certified in both Google Analytics and Google Search.
SEO + Optimised Landing Page + Google Ads = Profit
Grade Your Existing Google Ad Account
Want to find out where you're loosing money and customers. We will grade your Ad account for free with actionable steps for improvement. Fill out the form and one of our team will contact you.
Case Study
This was a two month comparison report for our new client who was running a Google Ad campaign and social campaign. For the same spend we doubled their conversions and halved the cost per conversion after only the second week, and by the third week reduced the conversion cost again by 29%.  Conversion value will depend on your busines but for this client each conversion was worth more than a 100 times the cost of the conversion. Bottom line is they increased there conversions from 24 to 88 and reduced their conversion cost from €26.89 to €6.95.
CPA (Cost per aquisition – final cost for fully converted sign up)
Impressions: how many times your Ads shows up in search results
Clicks: How many times your Ad is clicked
Conversion: How many people take action.Buy /Sign up
CTR:  Clicks ÷ 

Impressions 
Conv. Rate: Conversions ÷ Clicks 

  
Week 1 – CTR 0.18% , Conversion Rate 4.01%
Week 2 – CTR 0.74% , Conversion Rate 6.25%
Week 3 – CTR 1.51% , Conversion Rate 7.20%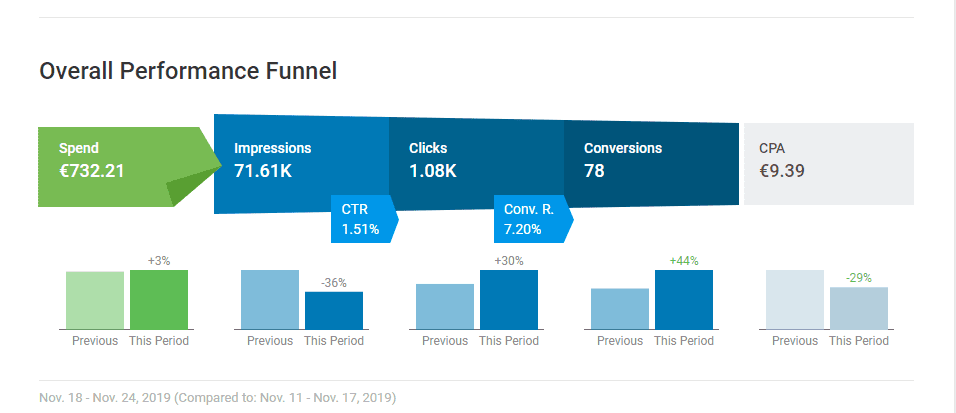 Week 4 – CTR 1.66% , Conversion Rate 6.74%
Week 8 – CTR 9.88% , Conversion Rate 16.82%
We Know What Works, And What Doesn't.
Doing it yourself does not work, working with a google rep does not work as they don't understand your business, your market or your product. We are experienced and have already made lots of costly mistakes. We know how to increase your Quality word score, bring down your cost per click, target the right ads, use the correct keywords and landing pages for the right audience. Whether your starting  out or already have an account call us today to see how we can help. 085 7053575
What Are Our Charges
You must pay your own daily budget directly to Google and we will fine tune your Ad for a profitable return on your investment. All new written content for landing pages must be supplied by the client or we can outsource. Your results will depend on your daily budget.
Website Audit

Competitor Keyword Analysis x 20 keywords

Keyword Research & Planning x 20

3 x Opimised Ads Created for Search

Goal and Conversion Tracking

Weekly Bid adjustments

Monthly Detailed Reports on conversions and revenue
Standard
To Get Solid Results
Comprehensive Website Audit

Competitor Keyword Analysis x 50 keywords

Keyword Research & Planning x 50

20 New Additional Adwords low CPC

9 x Opimised Ad Creation for Search & Display

1 x New  Landing page Design Optimised for Ads

Bid Adjustment (mobile), Monitoring, Goal and Conversion Tracking

Competitors Backlinks Research

Remarketing on facebook if you are using paid FB Ads

Monthly Google Ad Grader Report with actionable steps for improvement

Monthly Detailed Reports on conversions and revenue
Professional
Increase Traffic & Sales
Comprehensive Website Audit

Competitor Keyword Analysis x 100 keywords

Keyword Research & Planning x 100

50 New Additional Adwords low CPC

16 x New Opimised Ad Creation for Search & Display

2 x New  Landing page Design Optimised for Ads

Bid Adjustment (mobile), Monitoring, Goal and Conversion Tracking

Competitors Backlinks Research

Remarketing on facebook if you are using paid FB Ads

Monthly Google Ad Grader Report with actionable steps for improvement

Monthly Detailed Reports on conversions and revenue
Comprehensive Website Audit

Competitor Keyword Analysis x 200 keywords

Keyword Research & Planning x 200

80 New Additional Adwords low CPC

24 x Opimised Ad Creation for Search & Display

3 x New  Landing page Design Optimised for Ads

Weekly Bid Adjustment (mobile), Monitoring, Goal and Conversion Tracking

Competitors Backlinks Research

Manage FB and Instagram Ads

Remarketing on facebook if you are using paid FB Ads

Manage & Optimise Audience Opportunities – Fcebook Ads

Weekly Google Ad Grader Report with actionable steps for improvement

Weekly Detailed Reports on conversions and revenue